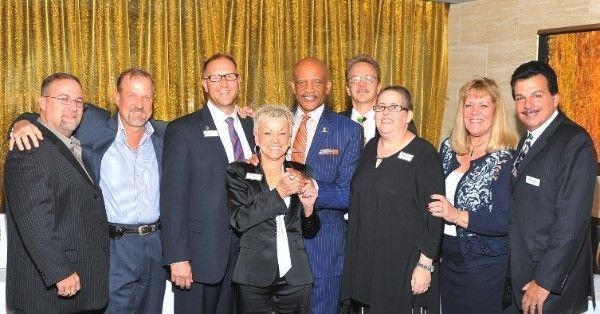 Sept. 16, 2015 – US REO Partners, a national REO and default resolution professional association, raised more than $100,000 for St Jude Children's Research Hospital during its annual charity dinner and auction at the Five Star Conference in Dallas. This year, one of the NFL's greatest wide receivers Drew Pearson, joined the group and autographed five footballs to the highest bidders.
We are honored that Drew Pearson joined us this year to provide much-needed attention to such a worthy cause. This event gives us the opportunity to give back to the community in a big way while having some fun at the same time. Giving through charitable donations has been a cornerstone of US REO Partners since it started in 2010.
The mission of St. Jude Children's Research Hospital is to advance cures and efforts of prevention for pediatric catastrophic diseases through research and treatment. No child is denied treatment based on race, religion or a family's ability to pay, which is in line with founder Danny Thomas' vision.
"St. Jude was honored to be chosen as the beneficiary of the US REO Partners Dinner this year," said Bonne McCalmont Whittaker, liaison of regional events with St. Jude. "The evening was a great success raising more than $100,000 for the kids of St. Jude! Because of events like this, St. Jude is able to continue leading the way the world understands, treats and defeats childhood cancer and other deadly diseases."
About US REO Partners
US REO Partners, Inc. is a membership-based organization formed in 2010 by industry experts who have experienced the servicing and default cycles more than once working in the servicing and real estate industries. Our membership represents the top real estate professionals across the country, who have made a commitment to focus on the common goals of getting the industry back on track. We are an organization where everyone has a voice and everyone is expected to be a true partner in promoting our mission statement for a common goal. For more information, visit www.usreop.com.
Jim Clifford is a member of US REO Partners.  Jim is the Managing Broker at Washington Realty Group in Sumner, WA