Affordability of Buying a Home increased!?
Trying not to get into the political aspect of this, but even with housing prices rising, affordability of buying a home has increased according to Black-knight. To see the article click here: Black-Knight Article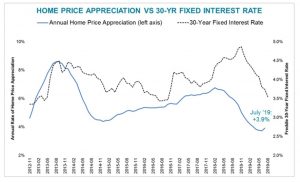 The blue line is affordability and the dotted line is interest rates, this doesn't show an increase in average household income which has also increased over the last year.
First American Title company also has a report showing that consumer house-buying power has increased by 12.2% from the year earlier.
To see the report: https://www.housingwire.com/articles/49962-first-american-says-consumer-house-buying-power-is-the-highest-its-been-in-nearly-two-decades.
With the increased household income and lower interest rates increasing the affordability of buying a home do we not see an increase in existing and new homes sales?
National Association of Realtor's statistic shows a decrease in pending home sales for July.
Click here to see the chart of pending home sales: https://ycharts.com/indicators/us_pending_home_sales_index
Spending
People between the ages of 25 to 34 are spending 70.8% of their total household income. Their spending is typically on average for housing, 25.9% of their income. The household average income is $48,928 in this age group. Good news is they are saving about $12,218 or about $1,000/mo. To see the interactive chart on household income and spending check this link: https://engaging-data.com/household-spending-age/
The next age group 35 to 44 average $61,063 household income and are spending 23% of their income on housing and saving $14,546 per year. Age group 45 to 54 household income is $94,927/year and they spend only 15% of their income on housing while saving $19,159 per year.
What is interesting about this is traditionally most of the home buyers are between the ages of 25 and 55 years old and in the past households spent about 33% of their income on housing. We are seeing this is no longer the norm. Could it be that people in these age groups no longer prioritize their spending on housing and if so, I would assume from this that they no longer expect their home to be a major component of their long-term wealth.
Jim Clifford is designated Broker for Washington Realty Group and has over 40 years' experience helping homeowners sell or buy homes, condominiums, land and investment properties. You can reach him at (253) 826-7513 or email at [email protected]
There are a number of changes occurring in the real estate.  Read about recent commission changes.